Paul Sullivan
Paul has been a fan of the late Diana Dors since he first listened to a Radio 2 show called "The Law Game" in which Diana was a regular contender. Paul had only known her then for her appearances on Blankety Blank, Celebrity Squares and Just William.
After seeing the film "Tread Softly Stranger" and the "Amazing Mr Blunden", Paul realised that Diana was once and still was a fantastic actress with a glamorous past.
Tired of seeing images of Marilyn Monroe and being able to find no information on Diana Dors, Paul searched numerous archives, galleries and collectors for images and memorabilia and thus the collection began in 1982 in his quest to learn more about Diana's early career. Paul's first major purchase was in 1982, and was a British movie poster bought from a West End dealer for £75. Paul describes this impulsive first purchase…. "I had been on a day trip to London and had searched out this little shop which sold movie posters and film stills, inside I found this amazing poster from Tread Softly Stranger. I had to have it, I put down a deposit and then the following week, after raiding my savings account , went back to collect it. My mother went spare, I had spend nearly all my savings on one 'piece of paper' as she called it! However to make sure it was protected they actually had it framed for me that Christmas." Paul recalls, "The collection grew and grew, relatives begans to seach for items, and shortly I had a collection of books by Diana. When Diana died in 1984, I was just 16 and was then ever more determined that I would keep collecting, I got a sense of joy telling people about Diana, her career and what she had achieved, many people my age were totally unaware of her history".
During the summer of 1995 Paul launched the first website "The Diana Dors Memorial Homepage" which continued to receive many daily hits as the internet grew and developed, initially hosted on the fast growing 'GeoCities' Communities (Beverly Hills Internet). The first home was in the 'Hollywood' community for entertainment themed webpages, and by the end of 1999 Paul had purchased the domain DianaDors.co.uk and the independant website was born. The site was relaunched in 2005 as part of the '10 years online' celebrations, and was further developed and enhanced in 2009, 25 years following Diana's death.
The archive has grown and grown. Paul says "People think I have a shrine to Diana or something, but in reality my collection is mostly stored in boxes and cupboards. Only recently I have put a few of the framed posters in my dining room, which always makes for good over dinner conversation!"
It was only when a large quantity of the collection was displayed in the summer of 2001, for a special Diana Dors Exhibition at the Swindon Museum and Art Gallery, did Paul appreciate how much he had collected over the years, "unpacking boxes and crates, I was truly suprised. I can tell you, my friends and family were also very surprised at just how much there was."
The Archive which includes over 1000 photographs from her film and television career, personal and previously unpublished photos from Diana's own personal family album, personal letters, original movie posters, magazine covers and features, Newspaper cuttings, a comprehensive film and television appearance DVD library, Diana's music recordings and other associated memorabilia.
Paul has assisted TV production companies, supplying images, sounds and other memorabilia used in documentaries such as 'The Unforgettable Diana Dors' and the 'Legends' series. Paul also appeared in the Channel 4 program 'ICONS', discussing Diana's impact on post war Britain of Diana's glamorous image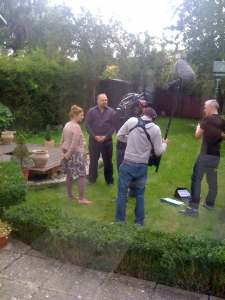 In November 2015 Paul loaned items from the archive for a very successful exhibition at Liverpool's 'The Gallery, Liverpool' curated by Duovision. By popular demand the exhibition was extended.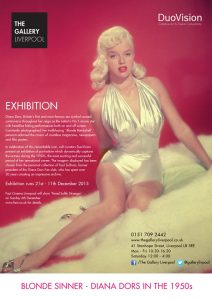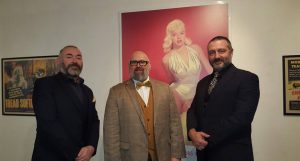 Paul continues to work with the family of the late Diana Dors in providing information to the world, via the non commercial, non profit making, official website and archive.