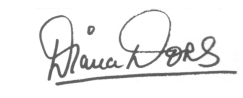 The Diana behind the image was only allowed to come to the fore when age inevitably began to bury that sylph-like figure underneath more matronly proportions. She became a character actress of considerable talent and then a personality seen frequently on television and heard on the radio. But it was her regular spot on TVam which enchanted millions.
On TVam Diana was famous for her 'Slim-in' with the Dors Dozen, openly flaunting those extra stones. In 'Open Dors', an Agony Aunt slot which followed, she answered viewers problems with a vision and depth that could only have come from living a life to the full. Above all, we knew she really cared. She possessed an unforgettable warmth and sincerity in her eyes and winning smile.Few knew these disguised the agony and trauma of a cancerous tumour which she was trying valiantly and courageously to overcome. When Diana died we all felt we had lost a friend, a member of the family.
At Diana's funeral at the Sacred Heart Church in Sunningdale Berkshire on May 11 1984, Father Theodore Fontanari read one of the countless letters and postcards of tribute that had come flooding in. It said:
"I am without faith. I know that something is missing in my life. Like millions I loved our dear Diana, not as a sex goddess, film star, but as a genuine person who one could feel would befriend you. My heart is saddened. Without her lovely being, our world is much poorer. I will now search for what she had found".

Early Years
Diana Mary was born on 23 October 1931 at The Haven Nursing Home, Kent Road, Swindon, Wiltshire to Mary and Peter Fluck. Mary had taken nearly a week to give birth and had almost died as a result. More………

War Years
Believing that Diana would return one day to teach elocution and not continue with her plan to become an actress, her father finally agreed that Diana could attend the London academy full-time, instead of once a week. More………
Rising Star
Before LAMDA was due to commence its spring term of 1947, Diana was summoned back to London to begin another film, in which she played a dance hall hostess. More………
The Star
J Arthur Rank was considered a bit of a joke. He made his millions from flour, and as a devout Methodist wanted to make religious films. More………
Twilight Years
Diana's later years, up until her death. More………